Example Link
Hello and welcome to the example link page.
The heading block was used to create the example link name above.

Additionally, selecting "Avatar" under
+ Add Block] added the avatar image, which is above, to the heading.

This entire link page was created by simply selecting blocks to add on this example page.

The one you are reading is an example paragraph; this is also a
"block," but
with the name "Paragraph."

All of the design elements on this page, from the headings to the paragraphs to the avatar block and more, were made with the [+Add Block] button.

By selecting the paragraph block, which is present below next to some blocks as a text summary, you can write anything about a post, link, or topic to describe it more.

All the blocks can be mentioned an infinite number of times.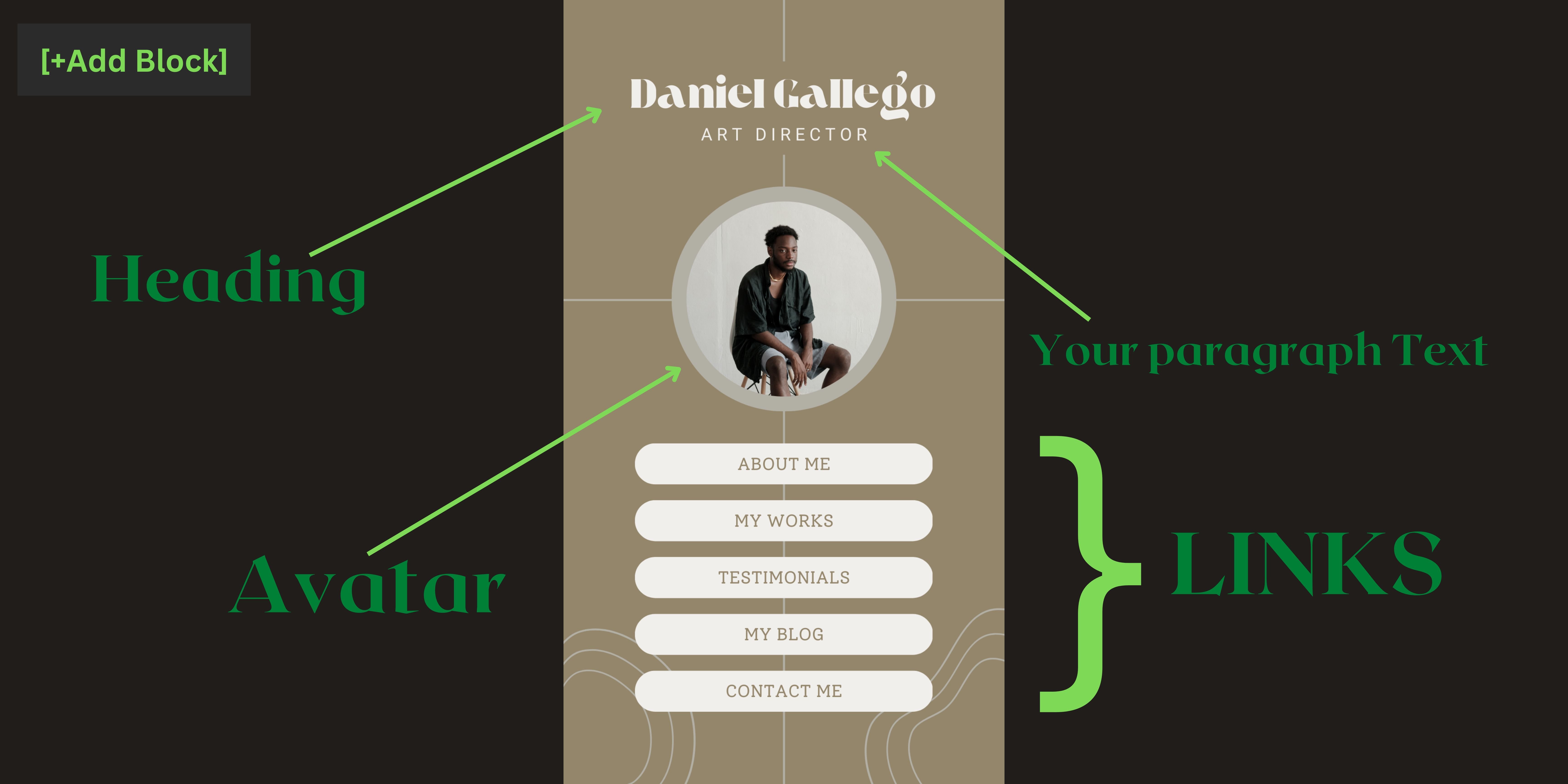 The above image is an example of
Features to choose by their names
when adding blocks to
the link pages: to create a link
For your social media accounts, select BioLink to link your personal or business bio.
from the link type while creating a link from the official link dashboard (official.link/dashboard).

Select Avatar (Block) for your profile/brand photo.
Heading 1 (your name)
Heading 2, "Your Idea,"
Heading 3 (Your Favorite Book)
Heading 4 (Your Business)
Heading 5 (A topic)
These are just a few examples of how to choose a heading and write a paragraph about it. 
Add any YouTube video by simply copy and paste link, with choosing YouTube Block; keep in mind that everything happens by selecting the block from [+ Add Block]
Collect email addresses from your visitors for updates on new products or services that you offer.

You can subscribe to the above box if you would like to receive the latest email only when we have something new added as a function at "official.link" web.
Add your favourite Spotify tracks to your page, a song, a album, a podcast etc., by just copy and paste the link URL.
We have added 15+ new Blocks recently, below is one of them, as the list is appearing, we used "List View" a new BLOCK
added recently, more are below in the list.
Example Link | Heading-2
Generate QR codes, for a website, specific link, text message, article, digital visiting card, location, PayPal, crypto, whats app, phone number, email and more.
Heading - H3
Like H1, H2, H3 headings are there on this link page,
A user can choose headings from the list, to mention headings from 1 to 6.

Headings are good to describe a topic, for example, H1 heading > About Me
H2 > About My Business.

Headings are also good for SEO.
This is an example alert text box.
Embed any Tweet, with just copy and paste Tweet URL.
Above Apple Music function was added in a few steps.
1- Copied the embed code of Apple Music.
2- Selected "HTML BLOCK" from the [+Blocks]
3- Pasted the Code in the box.And submitted the code.
This is a FAQ block that has been added by choosing [FAQ Block].
to include frequently asked questions about anything related to
any important question and answer. 
Yes, we can add as much as FAQ, inside.
Click on [+Add Block] select "FAQ" from the menu, then click "Create" to create the FAQ box.
Upload audio, video, and do more with the official link directory.
Create a link, customise it in your own way—it's as simple as above and below.

Select and publish with simply selecting blocks inside while creating a link.
ADD HTML CODE
HTML CODED BLOCK
What is this website all about?

This website is a platform for sharing information and resources related to a specific topic or subject.

How do I sign up for an account?

To sign up for an account, click on the "Get Started" button on the homepage and follow the prompts to create a new account.

Is this website free to use?

Yes, this website is completely free to use for all.

How do I contact customer support?

To contact customer support, click on the "Contact Us" link at the bottom of the homepage and fill out the form provided.